Our Pastor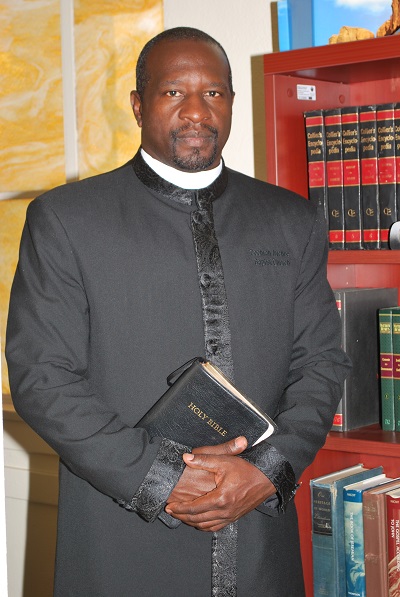 Pastor Charles Johnson was born in Huntsville, Texas. In 1967, along with his mother and five siblings, he relocated to Los Angeles, California. The Family united with Mount Zion Missionary Baptist church under Dr. Edward Victor Hill, Senior Pastor. Dr. Hill would be a profound influence on Pastor Johnson's ministerial growth.
Pastor Johnson accepted Christ at the age of 12 and took his faith seriously and faithfully worked in the Youth Ministries at his church and at the district and state levels, even serving as the President of the California State Baptist Youth Convention USA Inc. During his two-year tenure he was engaged in an aggressive evangelism campaign and over 3500 people gave their life to Christ. Evangelism continues to be at the core of Pastor Johnson's ministerial endeavors.
Pastor Johnson's educational background includes a BA from the University of Southern California and Masters Degree from The Southwestern Baptist Theological Seminary. He is currently pursuing his Doctorate Degree in Organizational Leadership and Administration.
In 1991, God blessed him with the greatest gift he could receive in the person of his wife, Virna L. Johnson. Her passion, zeal and creativity for God is a tremendous asset to the body of Christ at large. They have been married for over 25 years and God has given then seven beautiful and uniquely gifted children.
In 1993, God led Pastor Johnson back to Los Angeles and issued another call on his life, the call to plant churches. After successfully serving four years at the New Christ Memorial Church under Senior Pastor Andre Crouch, he started planting churches from North America to Africa under the banner of The Cities of Refuge Christian Fellowship Churches and Ministries International, where he has been serving as the presiding Bishop for over 20 years.
God 'planted' Pastor Johnson at Cochran Avenue Baptist Church during a time of needed spiritual guidance and has used his anointing to Shepherd the Cochran Family for 10 years.
God's visionary and prophetic anointing on Pastor Johnson led him to focus on the Power of Prayer in the Believer's life. He exhorted Cochran to pray together collectively for one day on our Prayer Line; it grew to one week, one month, one year and now The Making The Kingdom Proud Prayer Line is in its 8th year! Through word of mouth and social media sharing, the MTKP prayer line now reaches all over the country and the world at 5:00 A.M. (PST) every day!
Pastor Charles Johnson Ministries seeks to reach into every area of the world with the Gospel of Jesus Christ to help those lost souls who need the truth of Jesus Christ to provide hope and JOY in a hurting world. He boldly teaches the Word of God with profound passion that opens the eyes and ears of those truly striving to know Jesus Christ as their Savior.
Click to follow Pastor Johnson's schedule so you are able to experience his prophetic teaching or to schedule him for an event.